Two Ede ethnic minority women at Lak Lake
Da Lat is a delightful little city nestled among forested hills, some three hundred kilometers north of Ho Chi Minh City. At an altitude of fifteen hundred meters it has a cool temperate climate, which is always a relief when visiting from the sweltering tropical lowlands. I've been here for a few days, enjoying a short holiday with my wife, but now it's time to get back to work and things are not looking promising. There's a tropical storm off the coast and the television in our hotel room is showing images of uprooted trees, downed power lines and beached fishing boats. If that's not enough, after two days of wonderful sunshine, we woke this morning the sound of falling rain. Dark clouds hang low over the city, hiding the hill tops. The rain isn't that heavy, but it's driven by a strong wind and just below our hotel window I can see a woman fighting with a pink umbrella which seems determined to take to the skies.
My wife, who is a lot more sensible than I am, has already booked a comfortable coach ride home. I'm wondering if I should join her. A friend, Duong, who lives here in the highlands, assures me the rain will only last for a day or so. We agree to meet in half an hour. Soon I'm in kitted out in wet weather gear. My rucksack, wrapped in thick black refuse bags, is strapped to the back of the bike and after a quick kiss on the cheek, off I go. Although the plan is to head north, the rugged terrain requires that for the first fifty kilometers or so we take a road south. The rain isn't too bad, but the wind on occasion threatens to blow us right of the road. The first stop was to have been the beautiful elephant falls, but there's no point in even stopping. Photography is impossible. About an hour later, Duong, who knows this area like the back of his hand, pulls over. A short walk through dripping green bushes and we are out of the rain, sitting in a makeshift thatched hut and warming up with a few mugs of the delicious local coffee. I could happily sit here all day, but the rain has stopped and the clouds are lifting. It's time to go.
I climb off the bike. I lost all feeling in my bottom some hours ago and it's almost impossible to stand up straight. The rest of my body aches, I'm totally soaked and my fingers are so cold I can't straighten them. I'm happy. We've reached Lien Son, a village on the shores of Lak Lake, one of the most beautiful spots in the southern highlands. To make things better, a blanket of stars twinkles across the heavens. The journey, however, has been less than enjoyable. After our coffee we turned north onto a bumpy tarmac strip generously littered with an assortment of potholes, water buffalo and a wide variety of domestic livestock. Highway 27 began by climbing hundreds of meters to the crests of treeless peaks where the winds forced us to seek shelter in a small K'ho ethnic minority village. While Duong drank tea with the headman in his longhouse, I played with the children outside, taking my first few photographs of the trip. A little later we made our way down the twisting road to lower climes where the wind was less ferocious, but the rain was heavier. Within an hour we were climbing through the clouds again and I swear my soaked shirt collar was starting to freeze, but Duong just laughed at me when I told him. None of this mattered now. We were here. A hot shower, dry clothes, a good dinner and a long sleep was promised. Tomorrow, as they say, is another day.
Duong is a great traveling companion, but he's not a photographer. I leave him to his dreams and make my way along a muddy track to Y Jut village. In the predawn light I pass by the wooden longhouses of the Ede ethnic minority people who live around here, and make my way towards the lake shore. The silence is disturbed only by the occasional dog bark. I know exactly where I'm headed; a spot where I have a lovely panoramic view of the lake with the rising sun hidden behind some distant hills. If I'm lucky there will be some fishing boats tied up along the shore. These are carved out of a single massive tree trunk and many of them are far older than me. The Ede are no longer permitted to cut down these ancient trees to make boats this way.  In the gloom I can see that I'm in luck. There are a few dugouts right here. Yeah! It's time to get to work. I get out my tripod and set up. The light is getting quite nice, but I can't find an angle I like. I can't get low enough or close enough to the dugouts that I want to use as foreground interest. I take a shot and start looking for another composition.
It's almost eight o'clock and I'm making my way back to the lodge for breakfast. The sky to the east is now covered with scattered clouds racing across the horizon, driven by the still strong winds coming in from the coast. Just up ahead I see two women preparing their boat to set off over the lake. This has potential. I pick up my pace and glance down to check my camera settings. Everything looks good. I raise the camera to my eye. Nice light, but the composition doesn't work. A few more steps. Love the composition, but the light isn't great. Too much back-lighting and contrast. I take a photograph. Another step and I take one more. Then the one woman notices me for the first time. I call out "Xin Chao" (hello) and as she looks right at the camera I squeeze the shutter release. I hope I got that one. Turns out they are taking breakfast to their husbands who are checking their fishing nets on the other side of the lake. I say goodbye and head off for my own breakfast.
Kugara zvakanaka!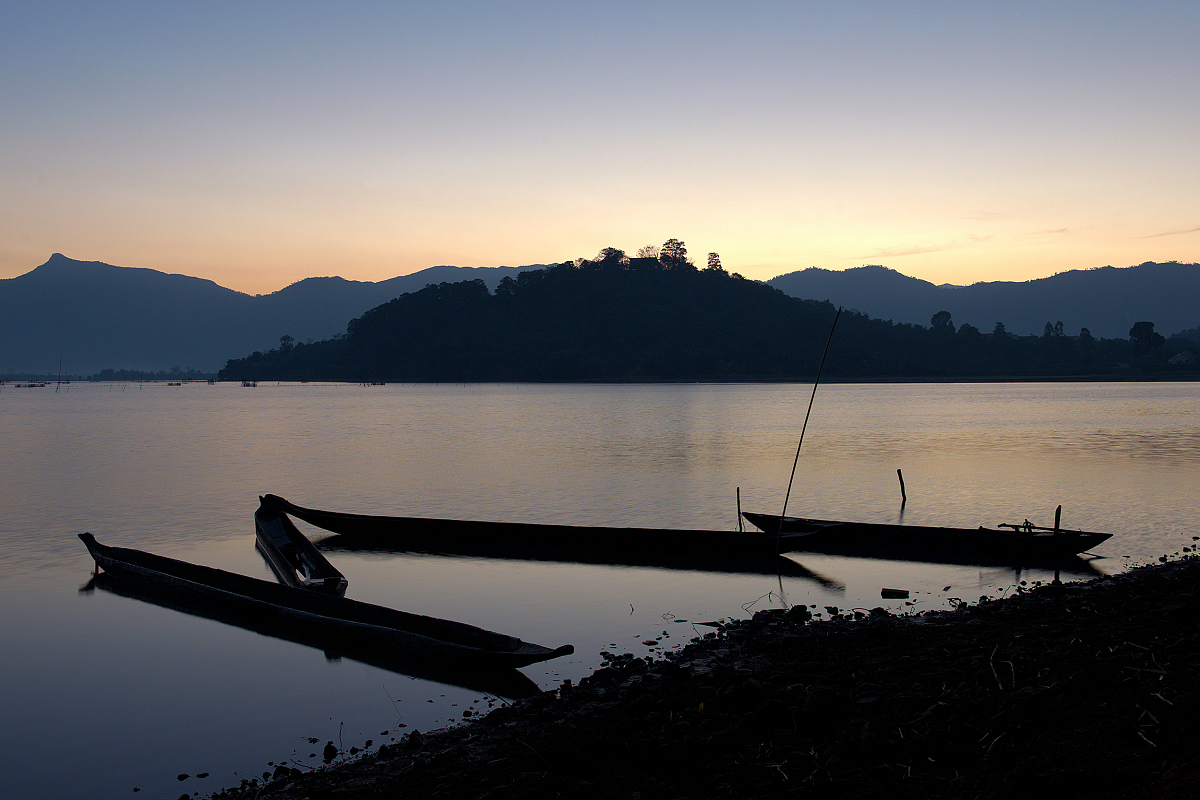 Dugout canoes on the shore of Lak Lake in the southern highlands of Vietnam.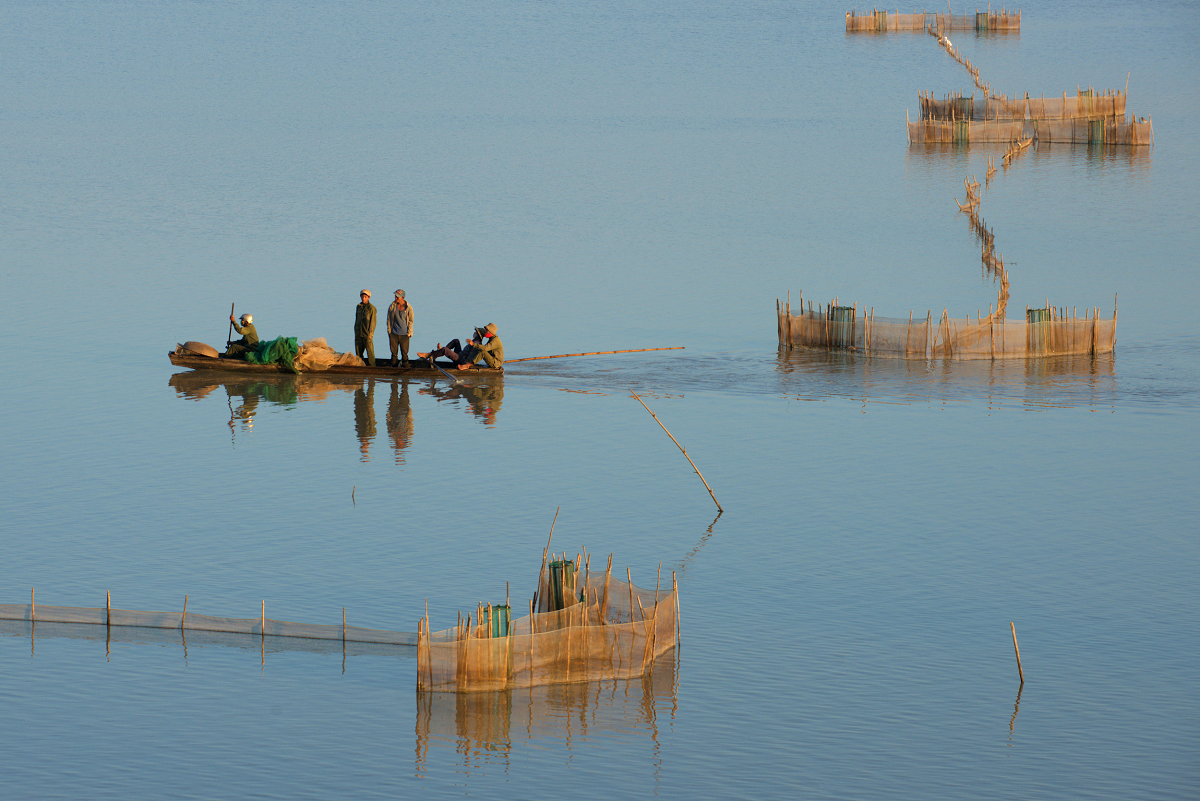 Fishermen on Lake Lake in the southern highlands of Vietnam.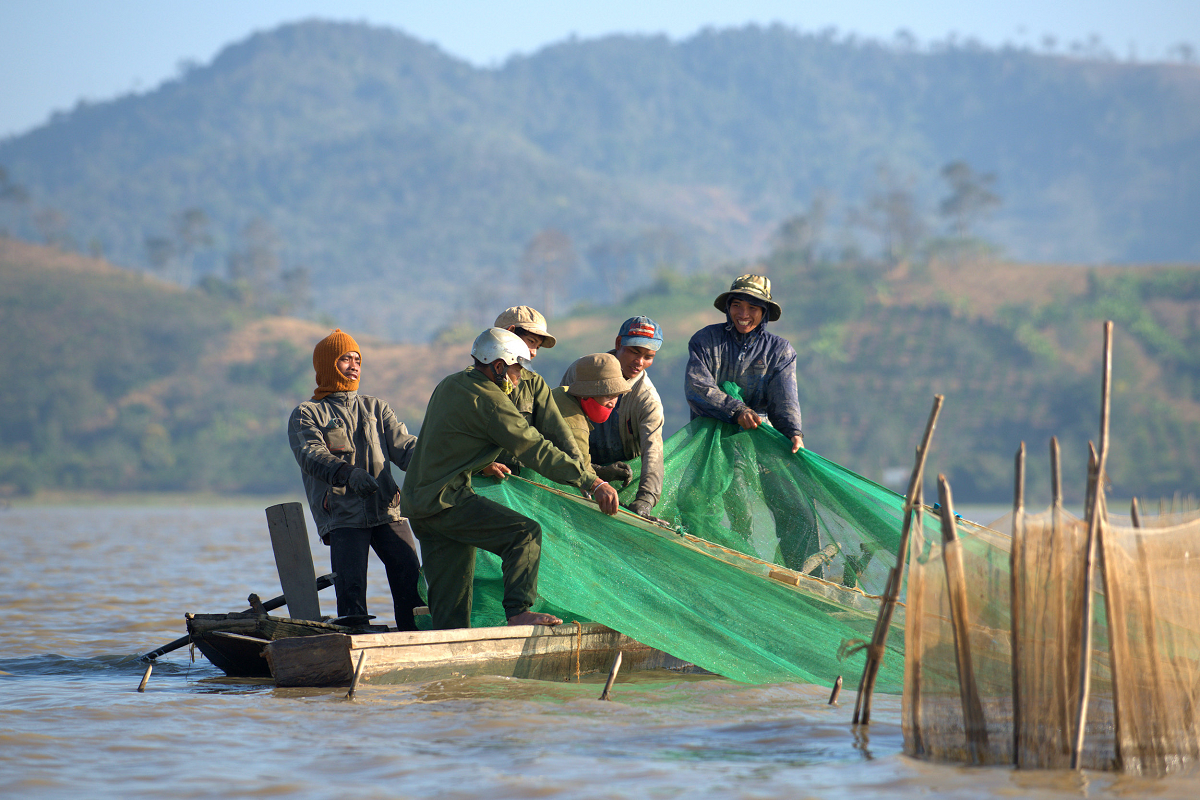 Fishermen hauling in the overnight catch at Lak Lake in the southern highlands of Vietnam.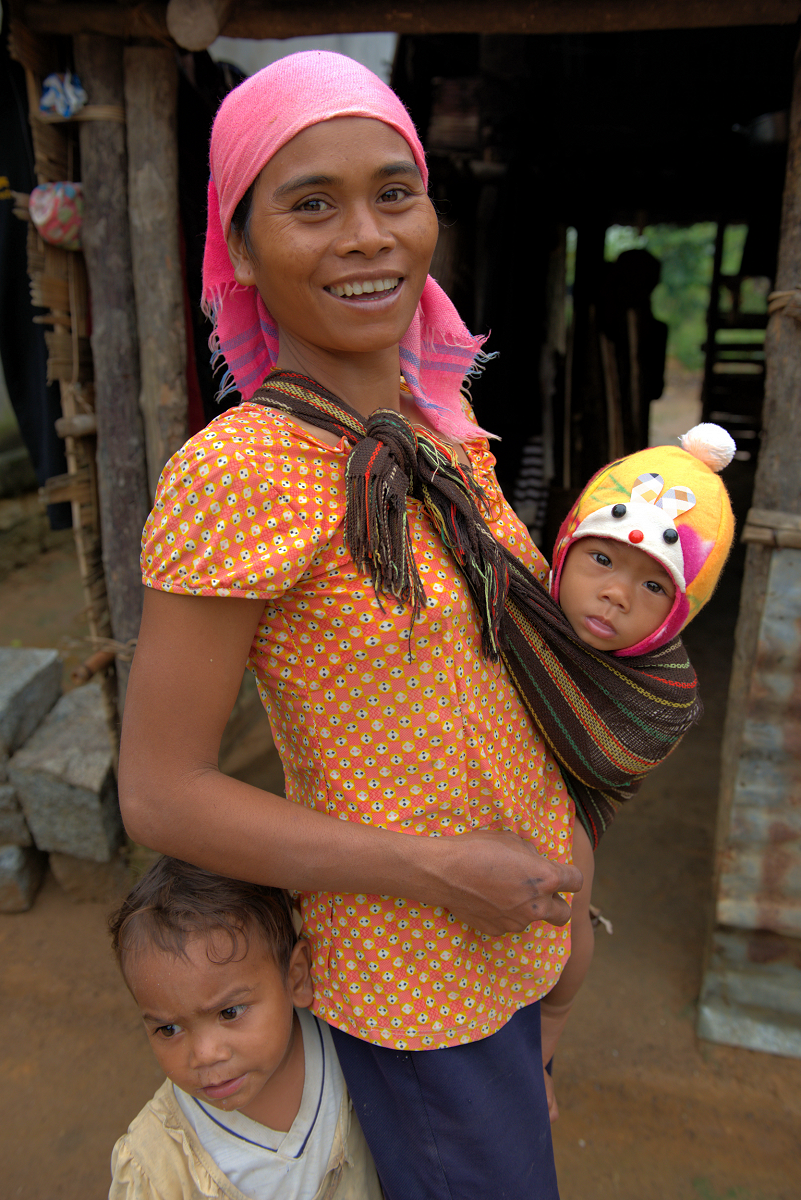 A K'ho woman and her children in a village north of Da Lat in the Southern highlands of Vietnam.