Photography tours are popular. It's easy to find pages of possibilities with a quick internet search. Not so easy, however, is finding the one that will be best for you, and it's really important that you do. You're investing your hard earned cash and probably vacation time away from the family to go on your tour, so it makes sense that you want to pick the very best tour you can. The first thing to consider is what type of tour is best for you. Type of tour? That's right. They are not all the same. It's important that as you begin filtering through the options you have, that you are very clear about your desired outcomes. What do you want to have achieved once your tour is over? To have learnt something new and to have broadened or improved your skills or to have created a comprehensive portfolio of great images from a bucket list location? These and other goals are not mutually exclusive, but it is essential that you have a clear idea in mind before you begin to avoid disappointment at the end. Let's take a quick look at some of the options.
The first kind of tour is what I call the celebrity tour. These are tours where a well-known photographer acts as a tour leader. They can follow either a workshop or photo tour format, but the important thing is that you will hopefully get to spend some quality one-on-one time with a photographer whose work you respect. This can be an incredible experience in and of itself. In recent years these tours have become much more popular and common, primarily due to the emergence of some excellent YouTube photography channels. If these appeal to you, and you can get yourself a booking, I would really recommend a tour like this. I must add, however, a word of warning. Some large and well established companies (who should really know better) sometimes headline a famous photographer, but when you arrive your tour may be led by someone you have never heard of. "Oh, he led the June tour and you're doing the July one" is not what you want to hear upon arrival. Always check who will lead the specific tour you book.
Next is the teaching tour. If you are just starting out as a photographer or maybe want to learn about a new genera of photography, then maybe a tour which emphasizes a learning experience, like a workshop, would be best for you. Workshops generally include more tuition and most also have informal 'classroom' time and shared image reviews and feedback. This can be very constructive and really help you to develop your skills. Indeed, some such tours might not always include much actual touring, but focus on a specific location where a particular skill can be practiced. The issues to check before booking a tour like this are pretty much common sense. Inquire about the 'level' of the tuition. You don't want to be sitting in a room full of people discussing 'photo stacking' if your goal is to learn how to shoot in manual mode. More specifically, you might not get as much as you would like out of it, if your tour leader is teaching you how to use layers in Capture One and you use Lightroom. The point here is to know what you want and to make sure that you will get it before you pay the deposit.
Third is the straightforward photography tour. This is the classical idea of a tour. You travel to explore a particular destination in depth, under the guidance of a guide who knows the area well. The goal is for you to come away with a well balanced portfolio of images of which you are proud. And if the tour is well organized, you shouldn't have to worry about anything except taking fantastic photographs. All the boring logistics are taken care of by your tour leader. And more than that, if he or she is good, they should be able to provide you with access and opportunities that the normal visitor doesn't have, thus adding a very important element of uniqueness to your images. On tours like this you will probably work harder than is the norm and you might occasionally miss the odd meal. After all no self-respecting guide would have you eating a hotel breakfast while you miss a sunrise. Sometimes, depending on where you are, the accommodation might also not be up to the expected standards, simply because some of the best landscape or culturally interesting places don't come equipped with five star hotels. The thing you most need to be aware of on tours like this is the experience of the guide, but we'll look at that a little later.
Finally, and deserving of a dishonorable mention, is the tour with 'photography'. This is the tour you probably trying hard to avoid. This is simply a normal hop-on-hop-off tour for non-photographers with the word photography thrown into the marketing material. Competition for tourists is stiff and tour companies know that 'photography' is a very productive key word. On tours like this you will find yourself surrounded by cell phone shooters with selfie sticks and arriving at iconic locations when the light is all wrong and being herded back onto the bus before you've had time to set up your tripod. If you are traveling with your family, this might be exactly what you want, but not if you're serious about taking good photographs. The best way to spot this kind of thing is to make a careful investigation of the company's website. If they have half a dozen similar tours to the one you're looking at that make no mention of photography, it's normally a good indication you should close the page on your browser and look elsewhere.
What's next? The second issue to consider is time. This is important at a number of different levels. A good rule of thumb is to always give yourself as much time as you can reasonably afford. This is especially true if your tour involves an expensive air ticket to a distant or exotic location. The duration of a tour doesn't necessarily correlate to its quality. Generally teaching tours or workshops are a little shorter than location driven photography tours. Looking through the marketing material of tours I know to be good, it seems that five to ten days is about the norm for workshops and about two weeks is average for photography tours. Having said this however, three days to three weeks might suit you better. It's all about what you feel best fits your personal situation and meets your needs.
Irrespective of how long you decide to spend on tour, time is important. Especially, think about what time of year will you be at your location? Travel to the iconic Victoria Falls in October and you'll be faced with a massive wall of grey rock and almost no water to mention. Arrive in Myanmar during the monsoon and you'll be photographing the inside of your hotel room. Get the idea? You can use one of many good weather websites to check on things like precipitation, cloud cover and hours of sunlight per day. In addition, if you are traveling within a region, remember to compare local weather reports. In Vietnam, for example, when it's great to shoot in Saigon it's often terrible in Hanoi, and vice versa. If the tour company you're looking at only has one or two tours to a location per season, it's a good indication that they know what they are doing. If they offer the same tour at any time of the year, look very carefully into the weather before you sign on the dotted line.
The next thing to consider, and although it's number three it's probably the 'big' one for most people, is cost. Photography tours of any kind don't come cheap. First, let's consider long haul flights. In recent years there has been a move away from including flights like these within a tour package. This is a good thing. The price of airline tickets fluctuates wildly and to avoid losing money on an upswing most companies buy tickets at expensive rates; if the price is high they're OK and if it goes down they make more money. You can usually get a better deal yourself. Flights within your tour area from one location to another, however, should be pre-booked by the operator and included in the cost of your tour.
Also, check to see if your tour has exclusive transport throughout your trip. The odd trip on a public bus might be fun, but you don't want to join one hundred and sixty other people on a large boat to photograph whales. Something to check carefully is what else is included or excluded. Most important is probably meals. Many tours include the free hotel breakfast, but leave you to take care of yourself at other times. This can be enjoyable, but if you don't know your way around and can't speak and read the local language, you can occasionally find yourself in difficulties. Also, depending on where you are, eating out can add up to quite a large chunk of unplanned cash on a two-week tour. If your tour does include meals, make sure in advance that your tour leader is aware of, and can accommodate, any dietary requirements you may have.
One last brief, but important, point about costs. For obvious reasons the larger the group the cheaper your tour is likely to be. This, however, comes at a price. In a celebrity or workshop kind of tour it means that you will get less face time with the tour leader or instructor. On a photography tour it may limit your access to certain locations or leave you surreptitiously fighting with other tour members to get that perfect spot for the shot that you all want. In spite of the extra cost, it will almost always be better to join a small group. My own thinking is that anything over twelve participants should be avoided.
It goes without saying that this next point is the one that probably interests you the most; the itinerary. I've already mentioned that if you are on one or other kind of teaching tour you should make sure that the content is exactly what you are looking for. The same is true of photography tours, maybe even more so. Read through the itinerary carefully. On most tours it has been carefully planned and is pretty much set in stone. After all, the tour company has to book accommodation well in advance to guarantee you have somewhere to sleep. The things to check are what time you will arrive at each shoot and how long you will have there; if a landscape is the fourth item of the day you are probably going to arrive long after sunrise when the light is high and harsh. Related to this is how far a particular location is from your hotel. How long will it take to get there? If you have to get up early and have breakfast on the road to reach your destination at the optimal time, is this mentioned in the itinerary? It should be.
If your tour offers a niche specialty, such as street photography or food photograph, work out how much time you will actually be doing this. If it's not clear, them write and ask. More to the point, what degree of customization does your tour offer? Any experienced tour leader who is familiar with their location should be able to make little adjustments in the daily schedule to allow for group members particular interests. Another thing which should be planned into the itinerary is downtime. Yes, really. The best time to shoot is usually early morning or late afternoon. A few days of early starts and late finishes and you will start to get tired. You will need time to relax, get the laundry done, maybe catch up on a little sleep and of course load all the images from your camera onto your laptop.  
Now we come to the point that I think is the 'biggie', your tour leader. The tour leader literally makes or breaks your tour experience. Unfortunately, unless you have met your tour leader previously or have a positive recommendation from someone you trust, this is also very difficult to establish beforehand. Website testimonials can't always be trusted as no company is going to post a negative review. You can try looking at places like Trip Advisor for tour reviews or just do a simple internet search, but this isn't often very productive. One thing you can look for is how long a tour has been running. Photography tours suffer a pretty Darwinian process and the bad ones don't last long. You should also try to look at your tour leader's website and social media pages. Does he or she have photographs or blogs about the tours they guide? Do they interact with previous clients online? This can be very revealing.
Next, depending upon where you're going, is whether your tour leader is international or local. There are potential advantages and disadvantages to both. International guides often have a better cultural awareness of their client's expectations, but don't always know that much about the place where they are taking you. Local guides are usually much more at home and have loads of little photographic extras up their sleeve, but sometimes don't understand the little cultural nuances that create a truly great experience. Again, it's a case of researching your tour leader and maybe emailing him or her to get a sense of how well you relate to them. One comment about this though. If you are on a teaching tour, study your instructor's photographs carefully. If you don't like what you see, it might be best to look elsewhere. If you are on a photography tour, study the content of the photographs rather than the style. If you like the subject matter in the images you are probably fine. You can shoot the same material in your own style when you get there.
Finally, before you pay any deposit, take a good look at the terms and conditions. What is in the fine print. What are the refund conditions etc.? More than this, any good operator should provide you with advance information about many of the things we've looked at, including simple things like suggested clothing lists and so on. They really should also have some kind of form or questionnaire, inquiring about your basic fitness, photographic equipment and specific interests and desired outcomes. Their sole job is to make sure that you get everything out of your tour that you want, and hopefully a lot more. They need to know what it is you want to do in order to make this happen. This is really the crux of the matter. As you go through the process of interacting with the tour operator before finally booking your tour, do you get the feeling that they are really interested in you as a photographer? If the answer is yes, then go for it and have a great time. Kugara zvakanaka!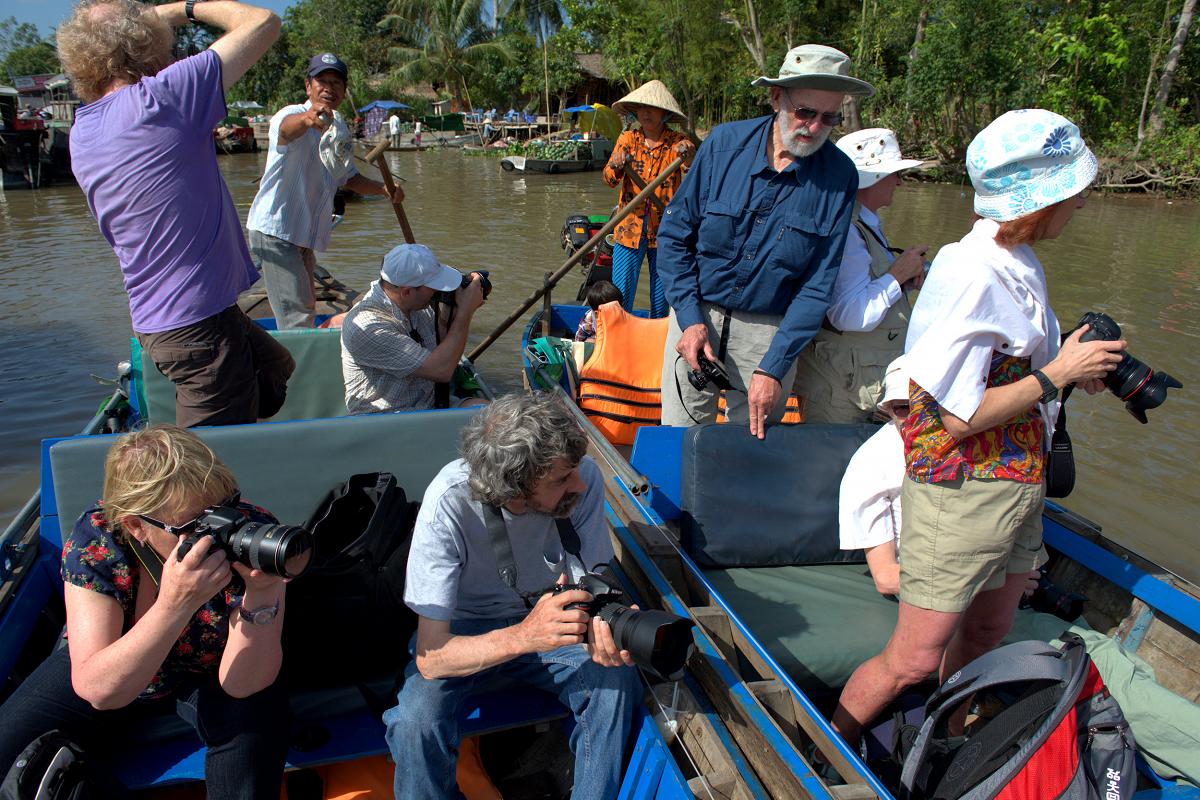 Exploring a floating market in the Mekong delta, Vietnam.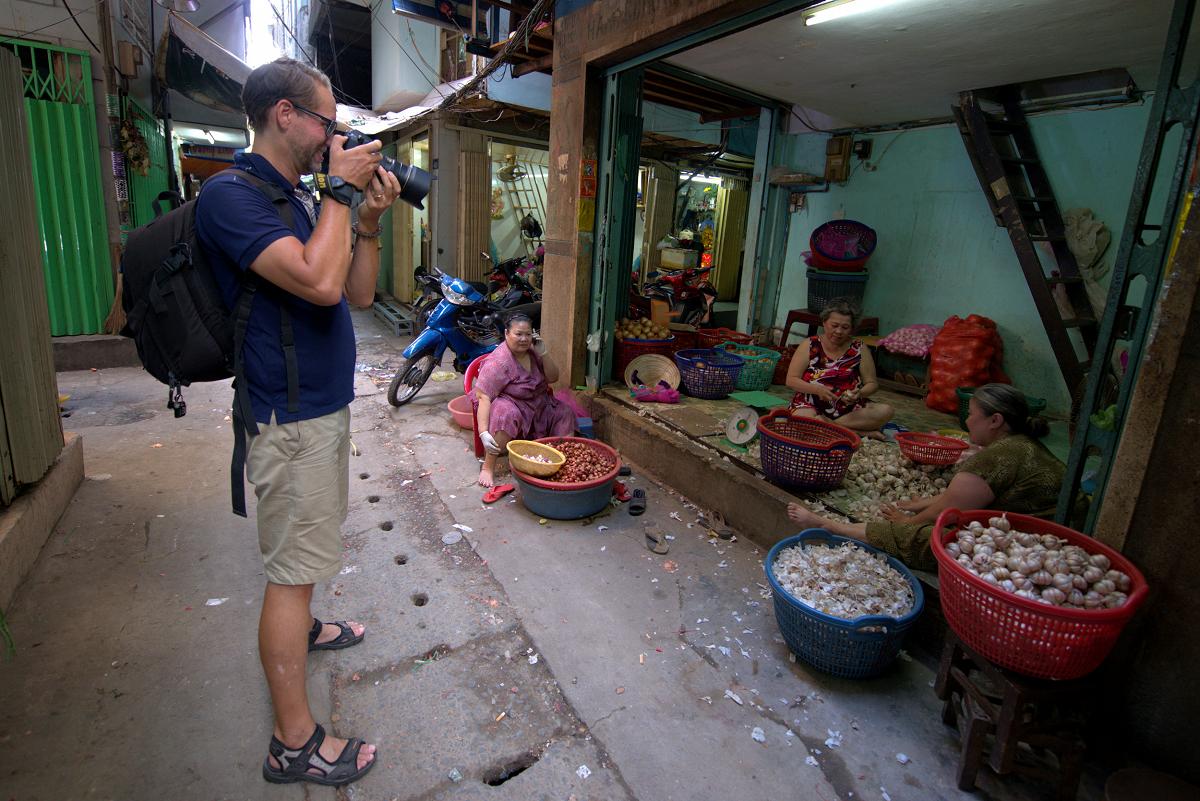 Photographing in the little back streets and lanes of Ho Chi Minh City, Vietnam.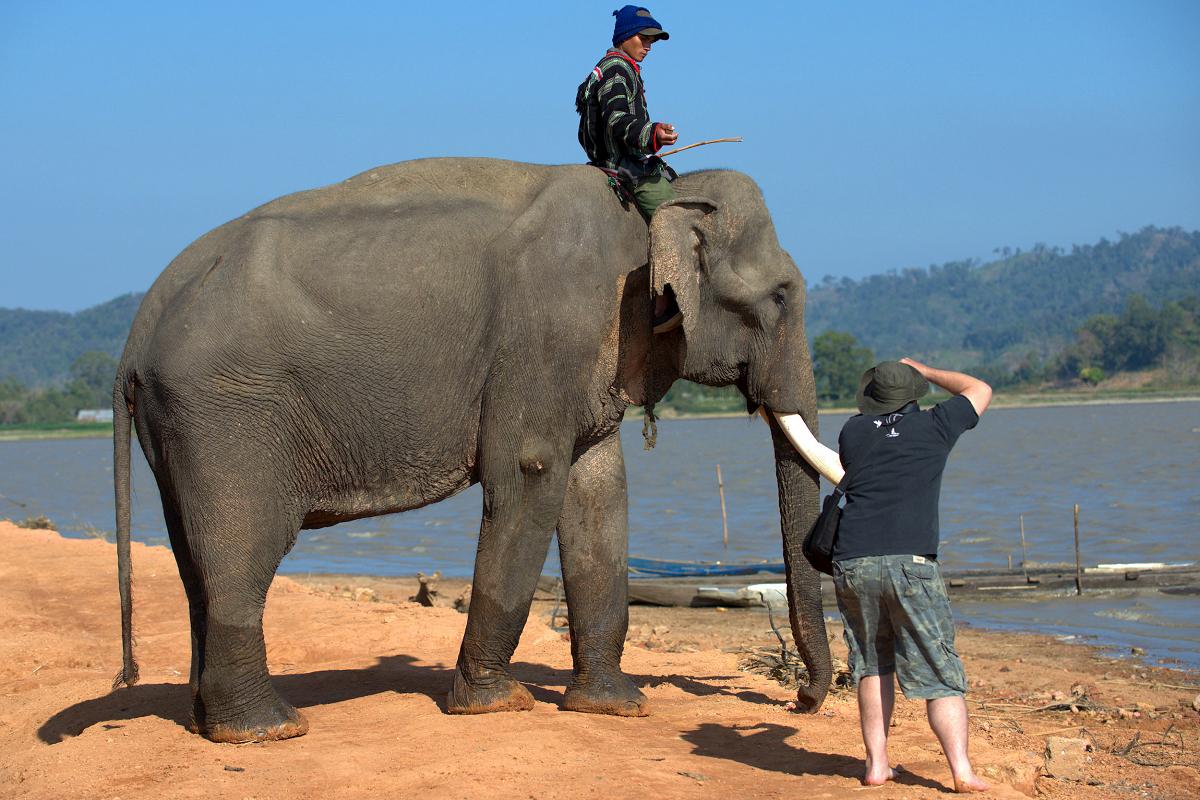 Walking with elephants in the Southern highlands of Vietnam.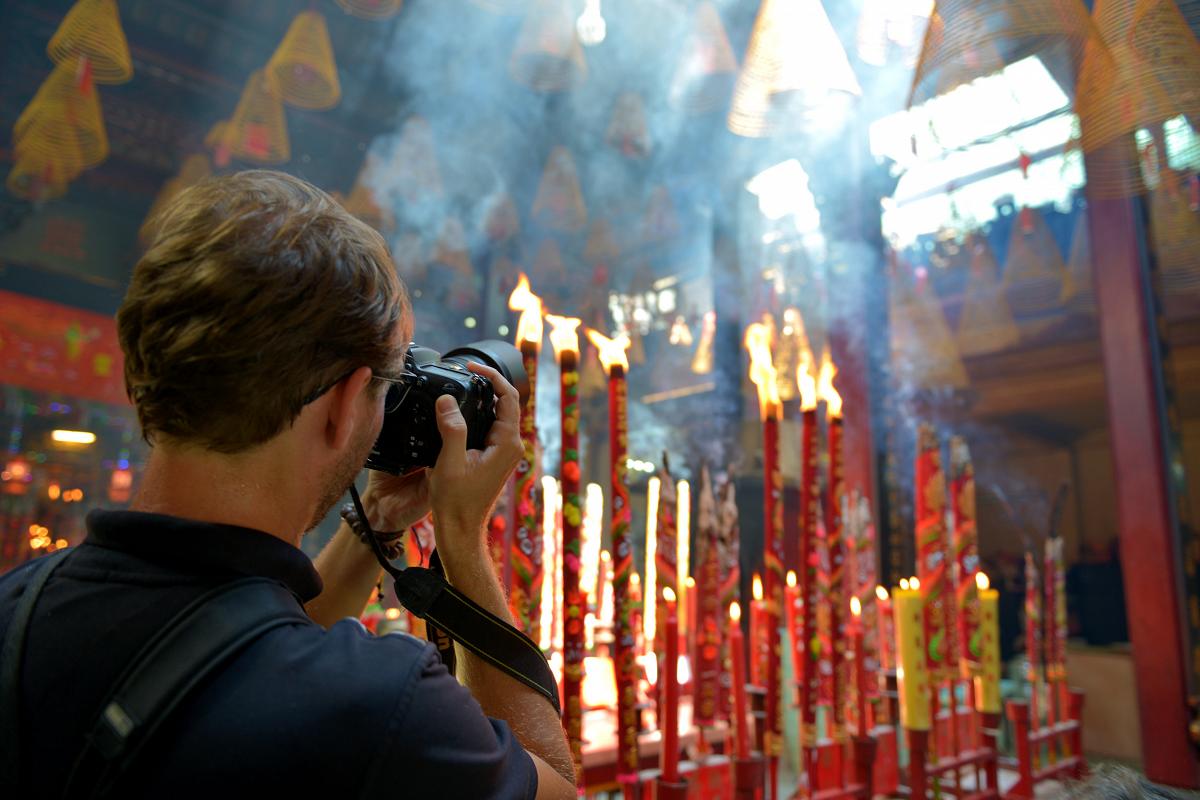 Capturing the light in a pagoda in Ho Chi Minh City, Vietnam.